FRAMELESS GLASS SHOWER SCREENS NEWCASTLE
Your glass pool fencing & glass balustrade experts
Glass shower screens are more than a screen to keep your bathroom dry they create an ambience that provides light, space and a sense of peace to any sized bathroom.
Tough as Glass shower screens can provide you with the ultimate bathroom accessory to add class and a modern feel to this very important space.
Our frameless glass shower screens come in a range of fixed and hinged options. We will help you transform your bathroom space regardless of the size or shape using our experience and knowledge to help you choose the design best suited to your needs.
All of our glass shower screens are made from Grade A 6mm-10 mm toughened safety glass for strength and durability. We take care of all the details from start to finish, including design, manufacturing and installation. Our goal is to provide superior quality, greater flexibility and seamless installation.
When you redecorate your bathroom, you have lots of decisions to make, from wall colour to hardware finish. One of the most important decisions is how you choose to enclose your shower or shield your over the bath shower.
Our experienced team are on hand to provide advice on the right product to match your renovation or new bathroom installation if you want to install a frameless glass shower screen.
Well installed glass shower screens provide any bathroom with a sense of space, cleanliness and that modern feel we all love. More importantly, our glass shower screens use Grade A, toughened glass for safety and durability.
Glass shower screens are sleek and modern. They make your bathroom more spacious and provide you the option to use colours and hardware that all complement each other because your glass shower screen works easily with your choices.
Every bathroom is different, when choosing a glass shower screen you can accommodate any space with swinging, fixed, single or double doors providing you the option to customise your bathroom to suit your personal needs. Renovating or building a new bathroom is easy because of the versatility provided by choosing a glass shower screen.
Frameless glass shower screens in your bathroom adds a contemporary feel to your residence, we all know that bathrooms and kitchens sell houses. You will be confident that your choice of a glass shower screen will appeal to buyers in the market adding value to your home.
All glass used in the manufacture of our glass shower screens undergoes a tempering and toughening treatment. You will have the confidence that your glass shower screen is manufactured from the highest quality glass. Because they are shatter and scratch resistant they also provide you with the peace of mind that they are durable.
Regular cleaning to remove water spots and soap residue provides you with a solution that is low maintenance and easy to care for, providing you with more time to enjoy other activities. Frameless glass shower screens means you can access the entire screen with no build up of mould or soap scum to worry about.
Regardless of the size, shape or position of your bathroom we can provide you with a solution. You have the versatility to have different types and sizes of frameless glass shower screens as well as different types of hardware to attach the glass shower screen to the space. Our experienced team will take you through the many options that are available to provide you with the best solution for your lifestyle and your bathroom space.

Manufacturer backed lifetime warranty from a family owned
business that has been in the industry for 40 years.
Download your
free guide now
Ultimate DIY guide for homeowners and inside tips for builders, carpenters and handymen
Access this free guide today to learn how you can save time & money on glass pool fencing & glass balustrades.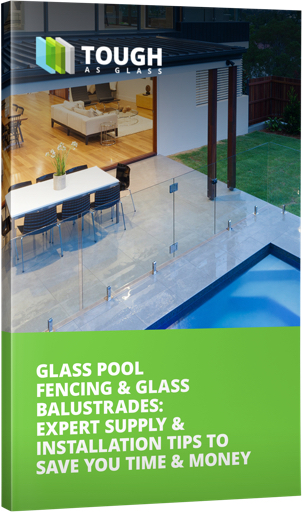 Request an obligation free quote today