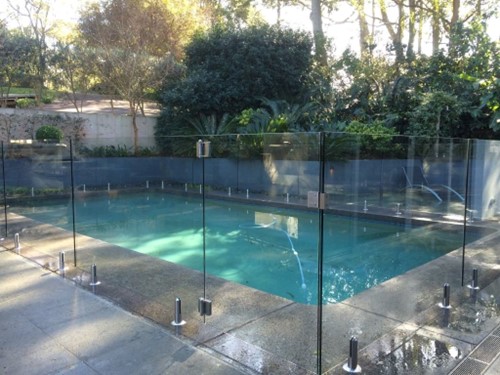 The dos and don'ts of pool plants – 8 FAQs
Having a tropical oasis in the back yard is the "Australian dream" for many of us, but there are things to consider when making your pool area beautiful, without turning it into a money pit! Or worse still, having the headache of having to remove and replace plants which don't comply with government regulations.
What are the regulations regarding plants and pools?
According to the NSW Department of Fair Trading, "To prevent children climbing over fencing into the pool area, the laws require pool owners to make sure they maintain a 'non-climbable zone' around the pool.
any trees, shrubs or any other objects such as a barbeque, pot plants, toys, ladders and chairs must not be within the 90cm non climbable zone.
this zone is measured in an arc shape from the top of the pool fence arching towards the ground.
it also includes the space extending 30cm inside the pool area – this space should also be cleared of any potential footholds or handholds."
So, when planting, you need to consider what will be the maximum size of the plant – both width and height.
That's why glass pool fencing is such an ideal choice when landscaping; you can keep the non-climbable zones while still having the aesthetic of plants in the pool surrounds, thanks to the transparent glass allowing uninterrupted views of the gardens.
What plants can be planted around a pool?
According to Gardening Australia, for saltwater pool surrounds, "The general rule of thumb is to look for plants that have silvery, furry or waxy leaves. Some good examples are Agave attenuate, Bromeliads, Echiums, Cycads and a mixture of palms which provide good shade. Other plants that work well in a saltwater situation are Westringia, Coastal Banksia, Chinese Hibiscus, Olive and Rosemary."
For chlorinated pools, "As a general rule, plants with tough, leathery leaves can better withstand chemical damage from things like chlorine. Think Mondo grass, Cordyline or Star Jasmine."
Kelly Robertson from Better Homes and Gardens advises, "For super simple pool landscaping, stick with shrubs and grasses. Dwarf evergreen shrubs in containers make a particularly fine choice because they don't spread and have a tidy habit—plus varieties come in a wide range of colours. Ornamental grasses and other foliage plants are also top choices because they don't offer blooms to attract bees.
In a pool environment, your plants will most likely need to tolerate semi-shade through to full sun.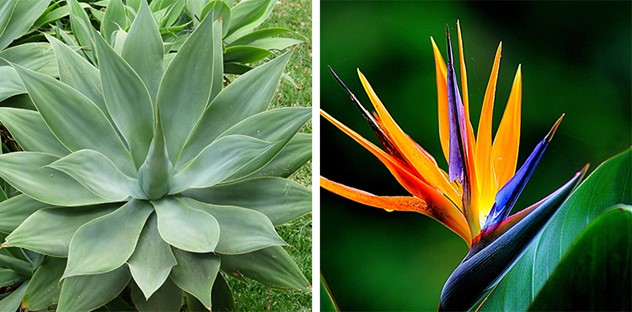 Flowerpower says, "Agave attenuata and Strelitzia reginae make great structural poolside plants. Just be mindful of where you plant your Strelitzia, ensuring you keep it at least 1.2m away from the pool."
Image credit : https://www.flowerpower.com.au/garden-advice/gardening/pool-friendly-plants/
What should you not plant around a pool?
Gardening Australia has some excellent advice about what to avoid when planting near pool fences. "Whether you have a chlorinated or saltwater pool, … deciduous plants, like .. frangipani, are perhaps ones best avoided and remember that plants with fine foliage that drop leaves can really play havoc with pool cleaners and pool filters.
… avoid plants that can cause structural damage to your pool. Things like running bamboos, the taller melaleucas, the Umbrella Tree or the Rubber Tree Ficus elastica all have incredibly vigorous root systems that can play havoc with your pool wall and cause all sorts of expensive problems."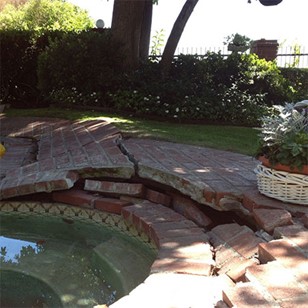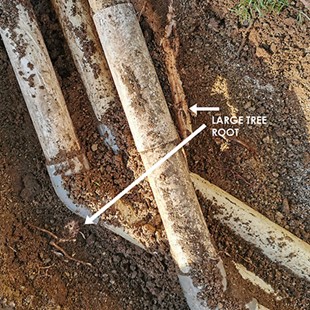 Uh oh!!! Tree roots are the pool's best enemy! Image credit: https://www.home-dzine.co.za/garden/garden-tree-roots-damage-pool-and-pool-pipes.html
Kelly Robertson also gives us food for thought: "Before you select a flowering plant for your pool deck, make sure it is not a favourite of bees."
Of course, as previously stated, any plant which does not comply with regulations is a no-no.
What is the best hedge for a pool fence?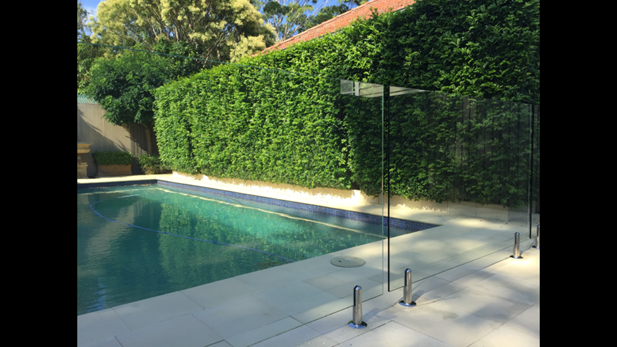 Image credit: Tough as glass
You will need to consider whether the hedging will go against a boundary fence or the pool fencing. Is the hedge decorative or for privacy? Are you trying to provide shade for the pool area? Flowerpower offers hedge options such as
Always check if the hedge will grow in compliance with regulations.
There is no doubt that glass pool fencing provides the perfect complement to hedging, with the advantage of being able to view the foliage from many areas of your home.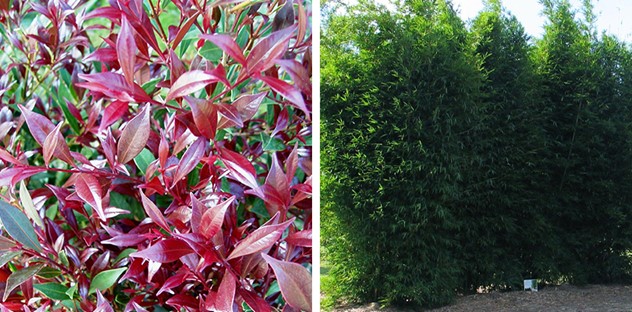 Image credit: https://www.flowerpower.com.au/garden-advice/gardening/pool-friendly-plants/
What are some good Australian native poolside plants?
We all know native plants are great for the Australian climate. As journalist Madelin Hayes from The West Australian found, there are some great benefits to having them in your pool surrounds.
"Add A Splash Pools Director and Owner Tania Spencer said native vegetation was often more tolerant of salt compared to other plants, an added bonus if you had a salt-water pool.
"Many native plants have silvery or waxy leaves," she said. "This makes them a great choice for poolside planting as they are naturally more tolerant to salt water that may splash out from the pool.
"Native plants are less likely to be messy as they are not deciduous. Leaf matter in pools is a common cause of pool staining and water quality issues."
Ms Spencer said it was important to consider elements like shade to provide respite from the sun, as well as privacy.
"Woolly bush, golden wattle, pink rice flower, tea tree and rosemary grevillea are great native varieties that provide a natural screen to neighbours," she said."
The beauty of native Australian flora is the variety – too many species to mention here! Natives are well-suited to landscaping pool surrounds where different heights could be used to create beautiful effects. Ground covers, climbers, rockery plants, hedging and trees can all be acquired from nurseries such as Newcastle Wildflower Nursery.
Can you grow plants on a pool fence?
Growing plants ON a pool fence is never a good idea. Why? Because of the regulations which require non climbable zones. Branches and vines of plants on fences could easily create horizontal footholds for climbing children.
Also, your glass pool fencing will be so much easier to clean without plants growing on the panels!
Follow the advice elsewhere in this blog for the best types of plants for landscaping pool surrounds.
What are good shrubs for privacy around a pool?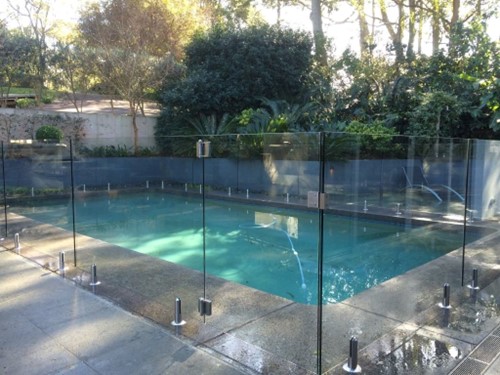 Image credit: Tough as glass
You can opt for natives or introduced species when planting for privacy, so long as they are safe, don't create clogs in your filters or other cleaning woes, and can withstand the conditions in the pool environment. See the links within this blog for the best advice around pool regulations, hedges, landscaping and native plants.
What looks good around a pool?
What "looks good" is up to you and your family. It's a personal preference. A great place to start is the internet!  Look at websites of companies providing pools and pool fence installation. You can google design ideas and view many images on sites such as Pinterest – whatever takes your fancy can usually be identified at a nursery or by a landscaper. If you are unsure, a landscape designer can help find the right balance between form and function. Your pool area must meet your practical needs while also being aesthetically pleasing. Consideration should be given to the purpose of the elements of the design, ensuring the right combination of shapes, colours and textures throughout the landscape. This can easily be achieved with the right plants and furnishings. There are many landscape designers who will assist with planning and implementation of garden and pool design ideas.