GLASS BALUSTRADE INSTALLATION & MAINTENANCE SYDNEY, NEWCASTLE
Your glass pool fencing & glass balustrade experts
Glass Balustrade Installation & Maintenance
Full Installation and Maintenance on all Glass Balustrade products
We offer an all in one packaged solution to meet all your glass Balustrade, including sales, service, installation and
maintenance including custom glass panels, posts and spigots.
Australian standards and regulations
Tough as glass is a fully registered and reputable local business delivering glass pool fencing excellence in line with
Australian standards and regulations. We endeavour to give you the peace of mind knowing you will get the utmost
protection for your family and assets whilst having an attractive, fully functional glass pool fencing solution.
Highly experienced and skilled Pool glass fencing installers
Our team of employees are all highly trained Pool glass fencing installers so we can get the job done efficiently and
accommodate all your specific needs along the way. When you deal with Tough as Glass you can be assured you will
be dealing with highly skilled professionals, from the initial phone conversation to the complete quotation and
installation of your glass pool fence.
As part of our complete all in one Glass Balustrade service, sales, service, installation and maintenance, we offer a no
obligation free measure and quote on all our extensive and cost effective glass fencing.
To find out more about how we can help you with all your glass Balustrade and our complete installation and
maintenance service, call tough as glass on 0413 248 267 or Click For an Instant Quote

Manufacturer backed lifetime warranty from a family owned
business that has been in the industry for 40 years.
Download your
free guide now
Ultimate DIY guide for homeowners and inside tips for builders, carpenters and handymen
Access this free guide today to learn how you can save time & money on glass pool fencing & glass balustrades.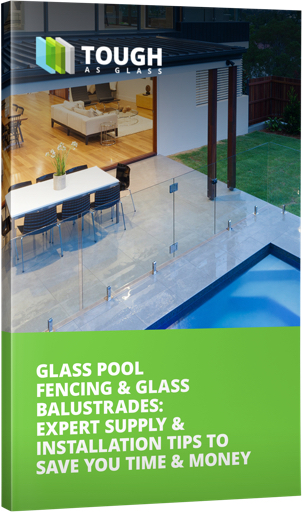 Request an obligation free quote today