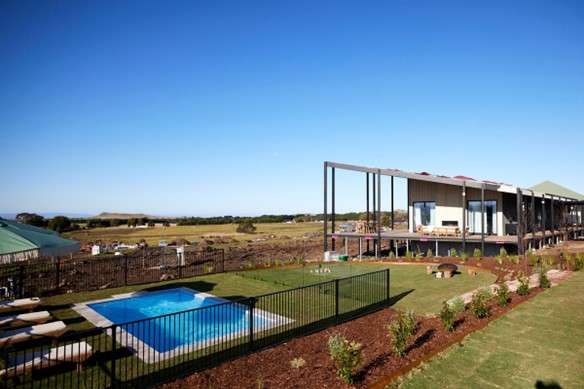 The Block and Country Landscaping
THAT controversial pool fence decision on The Block 2022
We'll discuss why Jenny was right and the landscaper was so wrong:
Poor Dylan and Jenny.
Every other contestant on The Block 2022 had glass pool fencing to enhance the look of the landscaped gardens and pool surrounds. In House 4, black tubular fencing was installed and Jenny was fuming! Others used clear fencing on expansive decks and pool surrounds to attract future owners who would also enjoy the stunning views of the Macedon Ranges. However, due to the usual nightmare of Block time constraints Jenny had to compromise and ended up with this…
When buyers shell out millions at auction, they are looking for perfection. When the Block judges view the properties, they, too, are seeking perfection. From paint finishes to pool fences, every contestant is punished for poor choices, and House 4's mismatched pool fence was a costly mistake.
The Winners of landscape week – Tom and Sarah-Jane
"I stood back there and said, 'Tom and Sarah-Jane have created a lifestyle'. I was wrong – they have created a lifestyle resort," said judge Neale Whitaker. And their glass pool fencing is perfect for enjoying views of the horse paddock, mini golf course and landscaped gardens.
Omar and Oz's mammoth landscape reveal
"It's selling that lifestyle experience that normally you only get when you're in a hotel or a resort," Neale Whitaker said. "But they're allowing you to live like that 365 days a year."
During the reveal, I found myself envious of the people who would enjoy watching their children play croquet, explore the little creek, bounce on the trampoline, play golf and other sports, or swim. Whether viewing from house to land, or looking from anywhere on the grounds back to house, the line of sight remains clear thanks to the boys' choice of fencing.
Judge Darren Palmer has a holiday home bearing glass fencing
It is no coincidence that the expert interior designer with impeccable taste has invested in a holiday home with the right type of fencing to allow uninterrupted views of the saltwater pool.
Clear pool fencing is always the right choice when landscaping
A landscape designer needs to find the right balance between form and function. Any garden must meet the practical needs of the client while also being aesthetically pleasing. Consideration should be given to the purpose of the elements of the design, ensuring the right combination of shapes, colours and textures throughout the landscape.
That is why so many of the "Blockheads" chose glass balustrades or pool fencing.
Some wanted family-friendly pool areas – places to entertain friends and family while having the assurance of safety and reliability in materials. The functionality of see-through glass allows for sitting back and relaxing with a beverage of your choice, while keeping a close eye on the kids in the pool. It also prevents children, pets and 'country critters' from entering the pool area unsupervised.
Other contestants planned resort-style living or vineyards. The transparent fencing on decks and pool surrounds allowed buyers to see views of the whole property from many different vantage points. There's nothing worse than trying to relax and enjoy the view from a deck or verandah only to have that view obstructed by wires or timber. Have you ever stayed at a 5-star resort with black, tubular fencing around the pool? I think not!
During the winter months while the pool may not be in use, the glass pool fence gives unobstructed views from within the home; views of the sparkling pool, landscaped gardens, or mountain ranges.
In terms of plants and planting, glass pool fences are the perfect backdrop for any plant within the pool enclosure or surrounding gardens. No need to stress over colour combinations or damage to plants (which may occur when painting or maintaining wooden fences.) The clear glass allows sunlight to permeate plants naturally, and the natural light makes the clear pool water seem even more inviting.
Another design buzzword is "flow." If the most successful Block couples had chosen other styles of fencing, it would have caused barriers and obstructions within these acreages. As it stands, their zones for play, entertaining, accommodation, business, or families were seamlessly connected as part of one huge, rural property, while having clearly defined, safe areas – thanks to their choice of fencing and balustrades.
Country manor anyone?
Each house on the Block sat on 10 acres of land. In these crazy post-(mid-never-ending?) pandemic times, there is evidence of a shift towards working from home, simplifying life, and focusing more on work-life balance. For those who could afford the $4 million plus price tags, these properties in Victoria were perfect.
However, the popular TV show no doubt acted as inspiration for others to make the "tree change" and move out of the cities to wide open spaces. And what's not to love about the lifestyle? Fresh air, family-friendly townships, the slower pace and a reduced cost of living. Many properties are a comfortable commute from Australia's capital cities. So "don't fence me in" – best to keep the open spaces as open as possible.
"Oh, give me land, lots of land under starry skies above…."   Images: Tough as glass
You would be crazy to build or buy a country home with outstanding views and not choose to install clear, glass fencing.
I'm sure "Jenny from the Block" would agree.